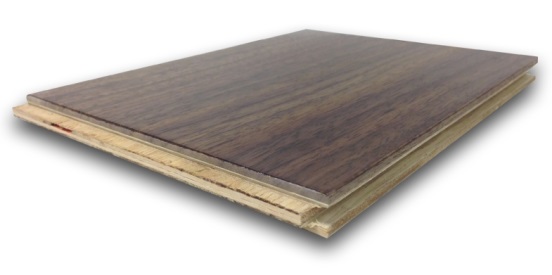 What is engineered wood flooring?
Despite the fact that it is the most common type of flooring used today, few are familiar with the term engineered wood flooring or what precisely it is. Engineered wood flooring is basically a wooden plank consisting of real timber that has been carefully pressed into two or more layers. The layers are purposefully installed to run in entirely different directions, creating a more stable base than plain solid wood. Once the floor has been put in, only the top of these layers can be seen.
Made of 100% real wood
Unlike many of the alternative wood flooring options available on the market, engineered wood flooring is actually entirely made of real wood. This means it is not only more solid and stable, but it also looks more authentic and is likely to be more durable and long lasting, making it well worth investing in the long run. This level of endurance is a rarity in other wood floors and is the main reason that engineered wood flooring remains the number one choice globally.


Easy installation process
Engineered wood flooring is easy to install yourself, something that is not all that common with flooring, a notoriously difficult DIY task. Solid wood flooring necessitates hiring someone in, which costs money, and it also takes a lot longer to finish. Thanks to various factors, engineered wood is far easier to install. Firstly, it requires much less preparation work, and the planks themselves are more flexible. The engineered wood can be nailed over joists, and no plywood sub-flooring is required in advance. Plus, as the top layer has been sanded and sealed in advance, once the floor is down, you can walk on it right away. Other floor types require finishing, so you have to wait to actually use them, which can cause inconvenience.


Flexible and limitless
There are few limitations when it comes to areas in which engineered wood can be installed. Other wood floors are limiting, but engineered types can be placed as over concrete and in areas where there is radiant floor heating as well as basements and other commonly restricted areas.


Sprucing it up is simple
Given its very nature and how much it is used, it is perfectly normal, and indeed expected, for floors to become damaged and rugged over time. Some types of flooring are virtually impossible to maintain and fix once its reached a certain point and it leaves little choice but to pull it up and replace it. With engineered wood flooring, there are numerous ways in which you can keep it looking great, including sanding to get rid of scratches or dings.


'Floating' installation
The floating installation system makes installation even quicker, as the planks aren't actually fastened to the floor, giving them extra flexibility and allowing easy replacement, repair or movement.


Aesthetically pleasing
With flooring, appearance is not everything, but the right kind of finish and colour can really transform a room and add to its overall look. Engineered wood flooring is available in various different finishes, with the option to have bevelled edges, which look especially great.

Engineered wood flooring can seem pricey at first glance, especially when compared with other flooring, however you get what you pay for, and this flooring simply oozes quality. When you weigh up the benefits and consider how long it will last, it really is a no brainer.

View our wide range of engineered flooring today.